Introduction
How to open a DAT files in generally, dat files or data files is a computer file which stores data to be used by a computer application or system , including input and output data. A data file usually does not contain instructions or code to be executed most computer programs work with data files.
In your system to find a file with a dat extension it's simply a generic data file that is have important information about the program used to create the particular file, it can be anything like image or video or document or email attachment also which store the information about the software handle.
In this dat file are not associated with a particular program though, it is plain text so you can open a dat files with different program like notepad or document among others. It will display the content. Otherwise you will see the raw data only you can't understand the the file unless you are the programmer.
We will be talk about the how to open a dat files.
1.How To Open DAT Files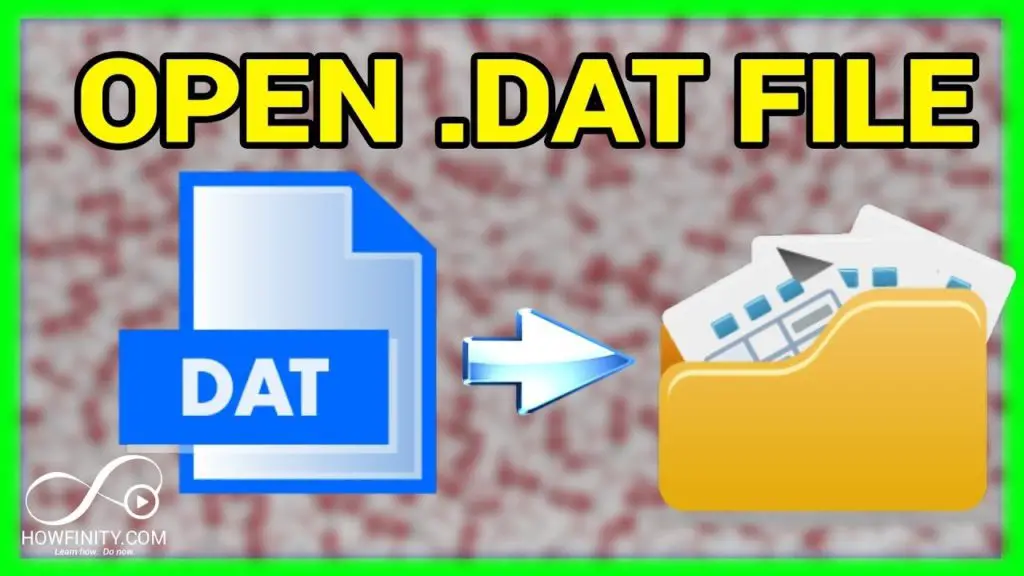 DAT files is not usual files because, its don't have a default program to open that file.
People thinks the dat file is very tough to open but some of the dat files are opened text-based and that very easy to read with a text editor.
In case you have an issue with a dat file and how to open the dat file and what to do it, first you need to find out whether it is video file or text file based, or others.
First of all, you try to open dat files in text editor. Its a very easy method and other things is notepad is in build application in all windows operating systems.
2.Few free text editor tool for read DAT file
Notepad++
Brackets
Komodo Edit
Visual Studio Code
2.a. Notepad++
It is the best application in windows instead of notepad application for opening dat files. It's really easy to use for who just need a text file opener or editor but also have some good advanced option also.
To edit files with Notepad++ is just right-click the file and choose Edit with Notepad++ from the context menu.
It is have searching word option also, to select the find option to search words with criteria., like use "/word" => its match whole word only match case, and wrap around.  
Save format of Notepad++ ,saves text documents to a huge number of formats like TXT, CSS, ASM, AU3, BASH, BAT, HPP, CC, DIFF, HTML, REG, HEX, JAVA, SQL, and VBS.
Its support with x86 and x64 bit also.
Also it supports plugins to do things like auto-save open documents, merge to all the text from open documents into one main file.
2.b. Brackets
How to open dat file use the Brackets, its provides an extremely open UI for editing and is a free text editor that's mainly used for web designers, but can be used by anyone to view or edit a text document.
In Developers use might like that Brackets highlights syntax, they can can split the screen to edit more than multiple document in same time, lets you click one No Distractions button for a really simple interface.
Brackets supports the lots of keyboard shortcuts so that you can quickly indent, duplicate, move between lines, toggle line and block comments, show or hide code hints, etc.
To instantly change syntax highlighting rules, as same like change the encoding of the file if you need to its very easy for Brackets.
If you want to editing a CSS or HTML file, you can enable the Live Preview option to see the page update in real time in your web browser as you make changes to the file.
Brackets comes installed with both a dark and a light theme that you can change at any time, but there are more number of others that you can install through the Extensions Manager.
In now a days the brackets available with a DEB,MSI and DMZ file for use in Linux, Windows, and mac OS, respectively.
2.c. Komodo Edit
It is a free and open source text editor for dynamic programming languages. This toll has minimal design and manages the pack of some good features. Its also using to open and read the dat file.
Komodo has more number of view modes are added so that you can very easily to open/close specific windows. One is "Focus Mode" to hide all of the open windows and display the editor, others show/hide things like folders, the syntax checker results, and notifications.
This tool focuses to very simplify management of all open text documents. At the very top of the program is the path to the currently opened file it's a very good option.
This tools edit is really useful to views the folder option ,they let you browse by the file system as well as create virtual projects that link folders and files at a once to better manage what you need to work on.
A unique feature in Komodo Edit is the area at the upper-left side of the program that lets you not only undo and redo like most programs.
Can connect to a remote FTP Server to open or save files.
Supports bookmarking specific areas of the document.
The search box lets you search for files to open, install add-ons, run scripts and sh commands, open menus, install other languages, change the color scheme. Recently closed tabs and files are easy to re-open
2.d. Visual Studio Code
Its is a source-code editor developed by Microsoft for Windows, Linux and mac OS. It includes embedded Git and support for debugging, syntax highlighting, intelligent code completion, snippets, and code refactoring.
You can use this tool as free text editor on windows that's used primarily as a source code editor. You can also open whole folders of files at a time if you're perform on a project, and even save the project for easy retrieval later.
It is very easy to select and edit text and to change throughout the entire document in one clean. Visual studio code used by read dat file.
Recently closed documents is easy to open since they're listed in the same place. Files can be auto-saved if you turn the option on.
If you have searching for text strings, you can define whether to match the case or the whole word. This code can run on Windows, Mac, and Linux computers.
3.Video DAT Files
DAT files are VCD Video files used for playing video from a CD (VCD) optical disc. The .DAT file is commonly saved in the MPEG-1 or MPEG-2 format and contains video data from the VCD optical disc.
Few DAT files are basically video files that are saved from the program as VCDGear or CyperLink PowerDirector, among others, and can be opened with one of those programs.
Make sure it's a video file but you don't know how to use and what program to use to play it, try VLC player or KPlayer like more video player s available in online. Its also using open dat files.
All the DAT files located in program directories on your computer are going to be rather useless because majority of it will be rubbish computer code.
4.DAT Files as Email Attachments
See the scenario for received an email attachment in the form of a winmail.dat file, you can easily open DAT file using Winmaildat.com without the sender having to resend it to you in the mail.The file extension dat file, It's a very easy for you then you download the .dat file attachment in one time, go to Winmaildat.com and click Browse next to Upload a File.
So you can see the contents of the .dat file in result page of the application. Though you can also download it to your computer and view everything the .dat file contains.
In video .DAT file you can check the program file it was saved from and try to open or use the program.If suppose program folder linked to any specific video DAT file program , you have to use the file or try some video player on you local computer.
5.Some Other Types of DAT Files
DriveImage XML is the best example program that uses DAT files for an entirely different purpose than all of the programs mentioned above.Its take a complete backup is stored in single DAT file along with by an XML file.
This DAT file have restricted some option that is, no way be viewed in a text editor, video editing program, or anything like that
So this type of situation, you have restoring the DAT file to a hard drive using the associated XML file.
Few other programs that use DAT files in following
a) Bitcoin core, b) Bitcoin, c) Mincraft, d) SimCity, e) Porteus
How to Convert DAT Files
Of course you can convert the .dat file using a free or paid file converter. The steps you'll take to convert .dat files depend on the file you have, but really don't have to convert it to another format especially if it's used to store configuration data as we mentioned above.
In same time you keep in mind the information for, converting the .dat file could also render it unusable. How it means, you can open a .dat video file in the program that was used to create it, and then save it or export to another format like the popular MP4, WMV, AVI or FLV.
Another issue is, if you know it's meant to be an image file, you can rename it to JPG or PNG, or for Microsoft Word documents, you can rename the DAT file extension to .doc or .docx.
Before renaming the dat file though, configure Windows to show file extensions properly.
In few convertor software in online for your reference
1) Free video converters 2) MediaHuman audio converters 3) Free image converters 4) Aconvert 5) Free converters other miscellaneous file formates 6) Free audio converters 7) Converto 8) Freemake audio converter
Final Words
We hope you now know how to open a dat files in your computer. Let us know which of the above methods worked for you by sharing your comment in the section below