Introduction
In generally the most of mac users used the very few mac keyboard shortcuts only but lot of important mac keyboard shortcuts is there. It is very helpful to mac users. If you're new to mac, learning all the available mac keyboard shortcuts can be a big challenge.
You can manipulate the time management and increase the work productivity by learning the standard keyboard shortcuts. Finally, using mac shortcuts in addition will streamline your workflow and speed up your macOS actions.
In the following section, we will mentioned collection of mac keyboard shortcuts for mac users
Read More: Virus Protection for Mac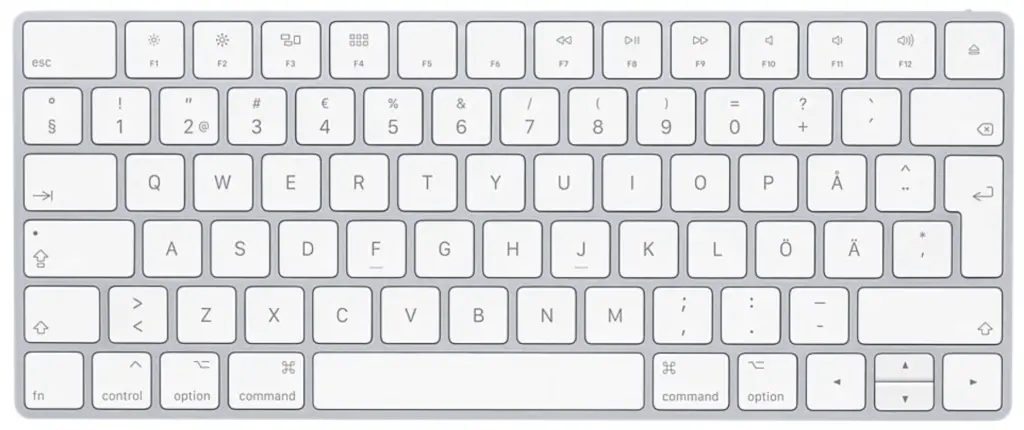 Frequent used mac keyboard shortcuts
1-Command + Comma(,) – To Open Preferences for the current app
This shortcuts are very useful to mac users but very less peoples only known this shortcut. How it is work, take the below example.
You are working in an application and you want to open the application's Preferences so just press command + comma(,) to get to in the fastest time. In usual way to open the preference means to navigate to the Menu bar if you like and scroll through to access the Preferences.
2-Command + Space – To Open Spotlight
To open the spotlight in very quick time, use the command + space shortcuts. It is seeming to be very frequent using mac keyboard shortcuts.
3-Command + Control + Power – To Restart your Mac (without confirmation dialog)
If you want to restart your mac by keyboard shortcuts press command + control + power button.
4-Command + Shift + Delete – To Empty Trash (opens confirmation dialog)
Delete your files and folder by mac keyboard shortcuts, press command + shift + delete.
5-Command + Shift + 3 – To Capture screenshot
If you need to be take a screenshot in your screen this shortcut will do that, and save it as a file on your desktop. If you modify it as Command + Shift + Control + 3, it will save it to the image.
6-Command + Shift + 4 – To Capture custom screenshot
The best way to capture your custom screenshot in mac by mac keyboard shortcut is press the command + Shift + 4
7-Command + Tab – Open Application switcher
Use this shortcut to open the application switcher. Press and hold the command keyword then use tab button to navigate to one App to another app. Each time you press tab, it will switch to the next application in line.
8-Command + Shift + G – Find a file and folder
Already opened the finder window, use this shortcut to open a direct line to a specific folder. Just put the file or folder path in the space the appears and it will take you directly to the folder.
9-Command + L – To search or navigate to a website
If you need to be search or navigate b very quick way to the website in safari to use this mac shortcut like "command + L", its is instantly selects the address bar.
10-Fn + Left Arrow or Right Arrows
You can move directly to the top or bottom of a web page using the Function key and the right (to the bottom of the page) or left (to the top of the page) arrows on the keyboard. You can do a similar result using Command-Up or Command-Down. Another method is to use Control+Tab and Control-Shift-Tab.
11-Command + left/right arrows
Press Command and the left arrow to go back a page in the browser window and press Command right to go forward again.
12-Option + Brightness Up (or down)
Quickly launch the display preferences by use this command. Other way is press Option with the Mission Control or Volume (up/down) buttons to access preferences for Mission Control and Sounds.
13-Esc
The most powerful mac keyboard shortcut is "Esc". It is very useful for all time in your computer. Let's have many of the examples is there for useful of Esc shortcut.
Let's take this example, if you are working in Microsoft word file you need to be select the particular line but you did wrongly select the some of another line. So that time just press the Esc button and will remove that selection function.
Another one example, Web page won't load and is sucking up your system resources? Just press the Esc and resolve.
14-Command + Y
This shortcuts mainly used to quick look to preview your desired item. How to use quick look, choose an item in Finder, press the space bar and a preview will display. So here let's use the mac keyboard shortcut like command + Y. How to use that shortcuts, just select an item and press the command + Y.
15-Tab nav
Use the Command-Shift-] or Command-Shift-[ characters for navigate between the multiple tabs.
16-Command+Shift+\
If you need to be to view all open tabs in one safari windows – it is the easy way for that.
17-Option + Double-click
Double-click shortcut opens a folder in separate window at the same time closing the current window.
Finder Shortcuts
| | |
| --- | --- |
| Keyboard shortcuts | Description |
| Command + A | Select all items in the front Finder window |
| Command + Option + A | Deselect all items |
| Command + Shift + A | Open the Applications folder |
| Command + Shift + C | Open the Computer window in Finder |
| Command + D | Duplicate selected item |
| Command + Shift + D | Open desktop folder |
| Command + E | Eject |
| Command + Shift + F | Find Spotlight file name matches |
| Command + Option + F | Navigate to the search field in an already-open Spotlight window |
| Command + H | Hide the currently active window |
| Command + Option + H | Hide all windows except the currently active one |
| Command + Option + H + M | Hide all windows except the currently active one and minimize the active window |
| Command + Shift + H | Open the Home folder of the currently logged-in user account |
| Command + I | Get Info |
| Command + Option + I | Command + Option + I |
| Command + Control + I | Get Summary Info |
| Command + Shift + I | Open iCloud Drive |
| Command + J | Show View Options |
| Command + K | Connect to Server |
| Command + Shift + K | Open Network window |
| Command + O | Open selected item |
| Command + Shift + Q | Log out |
| Command + Shift + Option + Q | Log out immediately |
| Command + R | Show original (of alias) |
| Command + T | Open the current location in a new tab |
| Command + Shift + T | Show Tab Bar |
| Command + Option + T | Show/hide Sidebar |
| Command + Shift + U | Open Utilities folder |
| Command + V | Paste |
| Command + Option + W | Close all windows |
| Command + 1 | View as Icon |
| Command + 2 | View as List |
| Command + 3 | View as Columns |
| Command + 4 | View as Cover Flow (Mac OS X v10.5 or later) |
| Command + Accent (`) (the Accent key above Tab key on a US English keyboard layout) | Cycle through open Finder windows |
| Command + Shift + Question Mark (?) | Open the Help menu |
| Command + Left Bracket ([) | Go to the previous folder |
| Command + Right Bracket (]) | Go to the next folder |
| Command + Up Arrow | Open the folder that contains the current folder |
| Command + Control + Up Arrow | Open the folder that contains the current folder in a new window |
| Command + Down Arrow | Open highlighted item |
| Command + Shift + Up Arrow | Open the Computer pane in a new Finder window |
| Right Arrow (in List view) | Open the selected folder |
| Left Arrow (in List view) | Close the selected folder |
| Option + click the disclosure triangle (in List view) | Open all folders within the selected folder |
| Option + double-click | Open a folder in a separate window, closing the current window |
| Command + double-click | Open a folder in a separate tab |
| Command + click the window title | See the folders that contain the current window |
| Command + Delete | Move to Trash |
| Command + Shift + Delete | Empty Trash |
| Command + Shift + Option + Delete | Empty Trash without confirmation dialog |
| Command key while dragging | Move dragged item to other volume/location |
| Option key while dragging | Copy dragged item |
| Command + Option key combination while dragging | Make alias of dragged item |
List of some very familiar mac keyboard shortcuts
| | |
| --- | --- |
| Keyboard shortcuts | Description |
| Command + B | Bold |
| Command + I | Italicize |
| Command + U | Underline |
| Command + A | Select all |
| Command + C | Copy |
| Command + V | Paste |
| Command + X | Cut |
| Command + S | Save |
| Command + Q | Quit |
| Command + N | New |
| Command + M | Minimize window |
| Command + W | Close window |
| Command + P | Print |
| Command + F | Find |
| Command + Z or Command + Shift + Z | Undo/Redo |
 Startup Shortcuts
| | |
| --- | --- |
| Keyboard shortcuts | Description |
| Option | Display all bootable volumes (Startup Manager) |
| Shift | Perform a Safe Boot (Start up in Safe Mode) |
| Left Shift | Prevent automatic login |
| C | Start from bootable media (DVD, CD, USB thumb drive, and so forth) |
| T | Start in FireWire target disk Mode |
| N | Start from NetBoot server |
| X | Force MacOS startup (if non-MacOS startup volumes are present) |
| D | Use Apple Hardware Test |
| Command + R | Use Recovery  (OS X Lion or later) |
| Command + V | Start in Verbose Mode |
| Command + S | Start in Single User Mode |
| Command + Option + P + R | Reset NVRAM/PRAM |
| Hold down the Media Eject (⏏) key or F12 key, or mouse or trackpad button | Eject removable discs |